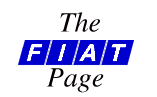 Special Projects Area
This area will house projects while in development, and other 'temporary' features. The images sent in by Paul B. this summer have been very popular, so they will remain with us for a while.

This section has been revised over time, as it's been over a year since it's inception!

Courtney Waters was a high-school student in the process of improving his 1970 Spider, and keeping it roadworthy on a shoestring budget. He started a series of articles that explain his efforts, and the education he's recieved while working on these cars.
Well, Courtney is now a College Student, and much has changed! What remains the same is his no-nonsense style, and I encourage you to check out his section! (revised 4/28/97)

We have a photo session that has more entertainment value than anything... A long time ago, Courtney & his friend Jason helped me strip a '79 Spider that I bought for parts. Our homespun efforts at auto wrecking are shown here as well.

Added 12/14/95 is a Photo section on the rare Fiat 130 models, with source material from a dedicated Reader in Australia.

Added 3/10/96 is a new section of old magazine ads. If you have any submissions, please let me know and we'll build this section.

Added 8/9/96 is an article written by Thad Kirk, regarding the care & feeding of the dual-point distributor. Unlike Thad, I think Marelli Electronic is the way to go (from late models or the almost non-existent Marelli Plex system), but this article is well-written and informative.

Added 11/22/02 (sheesh!) is a scanned-in Road test of the 1974 124 CC Coupe, from the 12/74 edition of Road & Track

In short, the plans for this area are wide open. Keep your eyes on it!

Most of the links in this section are graphics-intensive.
---
---
Back to the Fiat Page