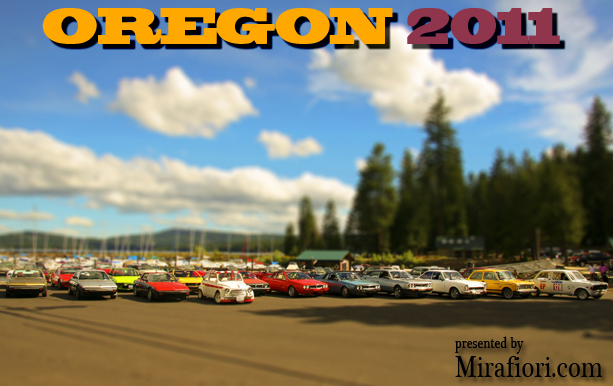 What is Oregon 2011?
Sometimes dubbed 'The Burning Man of Sportscar Events', Oregon 2011 is the 15th incarnation of Fiat enthusiasts gathering for a long weekend of camping, eating, drinking, talking, and driving Fiats. It is a fabulous opportunity to put faces to the names you meet online, and immerse yourself in everything Fiat for an extended weekend.
Where is it?
Oregon 2011 will take place July 14-17 at the Howard Prairie Lake Resort, about 25 miles east of Ashland, Oregon. As a group, we reserve a lakefront camping area with ample parking and camping sites, with optional cabins and RV sites. For info on the resort, check out their Website.
What happens there?
Here are some glimpses of previous events:
(links will open in new window)
Event Schedule
The weekend remains unstructured. Initially, it looked like we'd be skipping the Track Day this year, but the troops got together and it looks like it's happening.
If you have interest in Trackday, keep your eye on the Oregon list, and send an email to 'trackday@mirafiori.com' to coordinate registering as a driver.
Smaller groups break out into group drives, hiking trips, and almost every year a group organizes for the (day long round trip) drive out to Crater Lake.
The resort offers boat rental, and a popular trip is the 1/2 day journey out to the island in the middle of the lake for a picnic.
Saturday almost always offers a group Mulligan breakfast, and a group dinner on Saturday Night.
I believe that removing the focus on the track day may lead to a more relaxed experience overall, and this weekend is one of my favorite every year.
How do I sign up?
We have established a group camping site at HPLR, and if you plan to tent-camp a the group site, you can basically show up and tell HPLR you are with the Fiat group. Normal HPLR registration fees will apply, and there are no event fees paid to Mirafiori.com.
***Note: Tent spaces elsewhere on the site are on first-come, first set-up basis within the campsite. And, if you plan on renting a cabin at the resort, reservations with the Howard Prairie Resort are required.
*Cabin (or 'Schooner') reservations are required in advance, and usually sell out well in advance of the event, so get in touch with Howard Prairie ASAP.
This event has definitely matured/grown over the last years, and every event is better than the last.
Don't miss it!